To choose the right learning platform for your employees and your business, you need to know just what you're looking for. You need to define your needs before you can find the solution that will meet those needs.
From Learning Management Systems (LMSs) to Learning Experience Platforms (LXPs), talent suites to learning platforms, the sheer range of options can be daunting. Before you pour time and resources into demoing a whole range of solutions, make sure you're laser-focused on your requirements. You don't want to get drawn off-course by every vendor's enticing sales pitch!
Here, we'll help you decide if you need a platform and understand the various options out there. We also offer you a handy checklist so that you can thoroughly assess your needs and prepare your selection process. This way, when you start to shop around, you'll be clear about the employee experience you want to deliver.
Why use a learning platform?
Learning and development has changed. According to Josh Bersin, the employee experience is now at the core of human resources1.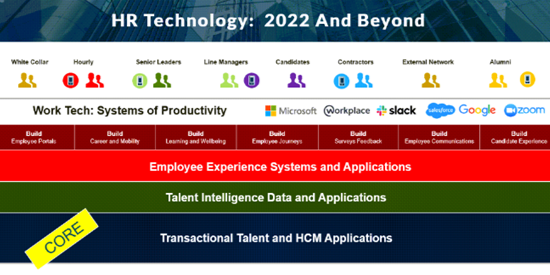 Today's employees actively seek employers offering meaningful and relevant learning and development options2. It's all the more important, then, to offer employees an engaging learning, development and upskilling culture, wherever they're located.
Of course, you don't necessarily need a learning platform to create a great learning culture. Many companies handle their learning through in-person training providers or allow each department to purchase and manage their own learning resources.
However, a learning platform can make this all much easier.
With today's more dispersed workforces, a new approach is needed to ensure all your staff get the same access to L&D, wherever they are and however they work.
So, does your company need one? Take the L&D health check to find out.
Your L&D Health Check: Do you need a new employee learning and development platform?
Is it difficult for you to create or distribute L&D materials that are tailored to your company objectives and your employees' career goals?

Do you struggle to monitor, measure and report on the outputs and impact of your L&D activities? Or does it take you a long time?

Are you offering different learning experiences for remote employees and in-office staff?

Is employee onboarding inconsistent? Does it take longer than you'd like for new hires to get up to speed?

Do you have low engagement with existing L&D tools and options?
Are you noticing high levels of employee turnover?

Do you find it hard to justify the money and time you invest in your L&D?
If you answered "yes" to any of these questions, it's definitely time to consider a new employee learning and development platform. But what kind of platform is best for you?
LMS & LXP: Understanding the learning solution market
Knowing that you need a learning solution is just the beginning. To avoid getting overwhelmed by analysis paralysis, you need to understand the differences between the types of platforms and what they offer. In particular, there's a lot of debate about which is better for business learning: in LMS or an LXP.
An LMS can be great for L&D teams to disseminate and manage onboarding, compliance training and track training sessions in line with company objectives. However, they're not always built with the learner experience in mind, nor do they encourage a decentralised, grassroots learning experience.
| | |
| --- | --- |
| | Get actionable insights around Employee Experience and People Development |
An LXP, on the other hand, allows learners to define and design their own learning pathways according to their needs, and enables social learning. While an LMS delivers a rather top-down, one-way, and individual learning experience, an LXP operates more like an ecosystem of collaborative knowledge and learning.
For forward-thinking businesses, the best solution might be a combined learning suite, that offers the best of both worlds3. A learning suite acts as an organic, evolving learning ecosystem, combining governance and flexibility and delivering learning, collaboration, engagement and performance in a single platform.
Ready for the next step?
So, you've done the Health Check and made the decision to invest in an employee learning and development platform. You know the differences between the various types of platforms. Now, you're ready to shape your selection process.
At Learn Amp, we've created a thorough selection preparation checklist to help you review your existing set-up, decide on the features you need, identify your stakeholders and establish your budget.
Resources