Employee experience and engagement are frequently used synonymously and incorrectly, but they are distinct and deeply interdependent.
While engagement refers to a person's overall relationship or affinity with the company, experience covers the specific experiences a person has while working for a business.
Those who are engaged show a love for their work.
In fact, there's an associated 21% jump in productivity, absences from work decline by 41%, and profitability lifts by 22% as a result.
And employee disengagement comes at a high price.
The UK alone loses £340 billion annually as a result of costs associated with hiring and training employees, a decline in creativity and innovation, and a rise in sick days.
Employee experience: what is it exactly?
All of an employee's interactions with an organisation throughout their employee lifecycle are collectively referred to as their "employee experience," or "EX."
There are many touchpoints along the way, from attracting job applicants to conducting exit interviews.
The employee experience 'lifecycle'
Employees take part in a variety of processes from the moment they interact with a business, which affects how they view the organisation as a whole.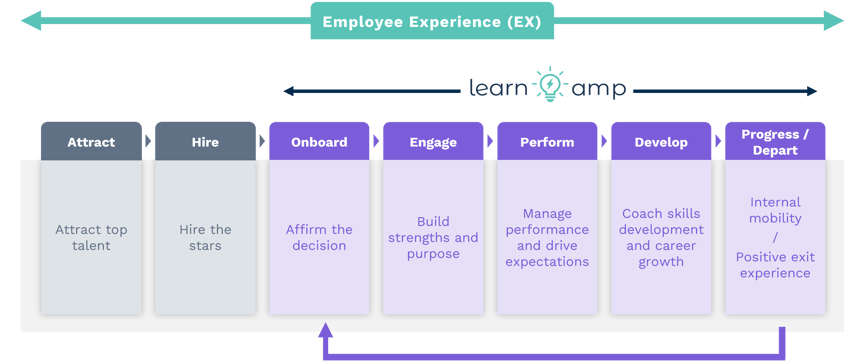 These key touchpoints make up the most common lifecycle:
Attract

Hire

Onboard

Engage

Perform

Develop

Progress / Depart
What does EX impact?
EX significantly impacts employee engagement and retention.
Those who have positive employee experiences are 16x more engaged than those who have unfavourable ones.
Plus, happy workers are 8x more likely to stay with their employer for the foreseeable.
But EX shouldn't be given top priority just for the sake of it. Businesses should abandon token attempts and switch from a conventional to an employee-focused approach.
EX is categorised into three areas by McKinsey & Company.
The first, Social Experience, focuses on supporting collaboration, encourage positive social interactions and creating a positive working atmosphere.

The effectiveness of the organisation in enabling meaningful work and giving freedom, flexibility and the chance for growth is explored in the Work Experience category.

The third area, Organisational Experience, involves having a clear objective that's consistent with the company's aims, improving technology for a better user experience, and greater productivity.
Understanding the employee experience from perspectives
84% of business leaders recognise the value of EX, according to Deloitte, but only 9% of people feel fully prepared to address it as a problem. The disparity exposes a separation between goals and reality.
Leaders should look at EX from a variety of angles to develop a more comprehensive understanding:
Adopting 'moments that matter'
In Human Resources, some specific events can play a large part in determining how an employee feels about their job. An example of this is their first day in the office. These, "moments that matter" ought to be knitted into an employee's journey with the goal of leaving a long-lasting impression.
Top-down/organisation
From an organisational point of view, measuring how employee experience affects a business' performance is the main focus. The employee experience is then modified using a top-down approach to maximise productivity and profitability. One example of this is using staff incentives.
Employee-first
Leaders' focus shifts to the individual when they adopt the employee perspective. Asking a range of empathic questions to gauge their level of satisfaction, effectiveness, and motivation, to ascertain what actually concerns them, is necessary to analyse the employee experience from the staff member's point of view.
Employee engagement: what is it exactly?
Employee engagement is based on the emotional connection that people have with their company. It's a marker of the level of commitment, enthusiasm, and investment that employees have towards their jobs and workplace.
An engaged employee demonstrates dedication to the company's mission statement, a desire to contribute in the years to come, and a sense of fulfilment and job satisfaction.
What can impact employee engagement?
Colleague relationships
People who have close ties with their coworkers typically display better levels of engagement and satisfaction at work.
These relationships not only provide solace and a sense of belonging, but they also promote cooperation and communication both inside and between teams.
Trust of leadership and management
Building confidence in leadership is necessary for increasing employee engagement.
The best leaders engage in open dialogue with their teams and exhibit transparency in their actions.
Only 29% of respondents in a survey of over 6,000 employees said that HR was aware of their needs and wants, which illustrates the significance of creating an environment where employees' opinions are heard and respected.
Culture
Employee morale increases when they experience encouragement and recognition at work.
The people who are most inclined to look for work elsewhere aren't given the credit they believe they're due. In fact, they're almost twice as likely to, demonstrating a connection to retention rates.
Opportunity to progress
Their long-term prospects at the company should be clear to employees.
A majority - more than 50% - would consider leaving their current position if there were little opportunity for advancement and training.
Consequently, career development, staff learning initiatives, and training are key to fostering employee engagement.
Relationship with management/leadership
A healthy manager-employee relationship can boost employee engagement, drive high performance, boost productivity, and improve overall employee happiness.
One clear solution to improved EX and Engagement: manager enablement
It's repeatedly been shown that the single most important factor is the quality of the manager.
Gallup research suggests that in at least 70% of cases, how employees engage with the business depends on how they view the quality of their management, with half leaving companies because of their manager.
Managers of the highest-performing teams are invested in the onboarding, engagement, development, and progression of the individual, as they understand and are able to make the link between employee experience and business performance.
Sadly though, the evidence shows that the majority of businesses aren't effectively enabling managers.

For detail on how to engage and enable managers to drive improved EX through L&D opportunities download Learn Amp's white paper.