The Learn Amp team were thrilled to be shortlisted for the "Best Learning Platform Implementation" Award at this year's Learning Technology Awards ceremony, alongside one of our favourite customers, nbkc bank (read case study here).
The Learning Technologies Awards are one of the most sought-after awards in our industry, so being shortlisted in the Implementation category was a huge honour.
As former L&D professionals ourselves, we know that a learning platform can only deliver great results if it is implemented in the right way. We pride ourselves on partnering with our customers every step of the way, from evaluation to integration and beyond.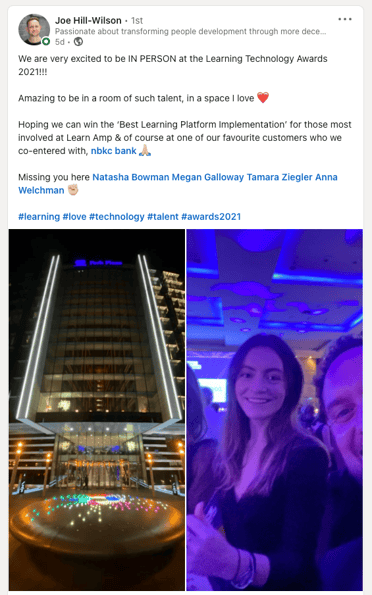 When nbkc bank decided to overhaul their learning and development strategy to meet the changing needs of their growing business, they chose Learn Amp because they felt it would align well with their core business objectives: offering their employees and customers innovative solutions that are accessible, simple and easy-to-use.
The result was a unique, effective implementation that supported their rapidly growing workforce, despite the challenges of COVID-19 and the sudden shift to hybrid work. Today, nbkc and Learn Amp have created a personalised, centralised learning
experience that has delighted and engaged nbkc employees.
Megan Galloway, nbkc's Director of Trainer and Development, remarks:
"I believe we have achieved our goals swimmingly with our choice in partner, Learn Amp and our unique implementation that was engaging, simple and fun for our employees to partake in!"
| | |
| --- | --- |
| | Get actionable insights around Employee Experience and People Development |
We are really delighted to have been shortlisted as one of the "Best Learning Platform Implementations" of 2021 at the prestigious Learning Technology Awards, following on from last year's Gold Award for "Best use of social and collaborative learning technologies".
To find out more about how Learn Amp could benefit your business, sign up for a demo below.