What's the secret ingredient that is shared by all successful companies? An employee force which is eager to learn, absorb new knowledge and to better themselves.

As a result, we've seen the creation and development of Learning Management Systems (LMS) which have recognised employees' need for learning and training.

But... In recent years we've also seen the evolution of Learning Experience Platforms (LXP) too.

Let's take a look at what LMSs and LXPs actually are, and how they differ... and how to pick which one is right for your business.
But first... let's start with the basics.



What's an LMS and what's an LXP?

Learning Management System (LMS): A software application or Web-based technology used to plan, implement, and assess a specific learning process.

Companies that have an LMS will normally have an administrative team (often consisting of Learning & Development executives) who curate the content on there. As a result, the content is in their hands (as opposed to the learners').
If you're part of the curation team, you'll be able to:
Create online learning content, such as courses, training, documents, elearning content, etc.
Manage this content, by organising it how you like (editing, assigning, downloading, etc)
Hosting training providers' content in once place so that it's easily accessible to your employees.
Assess users' performance on certain content, such as training courses.
Store users' progress and performance statistics, so that you can track progress over time.
What is an LMS traditionally used for?
Making sure that your employees have done 'tick-box', necessary training, such as training for:

Compliance
Health and Safety
Onboarding courses for new employees
Other mandatory training programmes.

Learning Experience Platform (LXP): a learning platform designed to provide a personalised, social, in-workflow learning experience that goes beyond the traditional LMS.

In contrast, LXPs allow users to have more autonomy over their learning.
Here are some of the features of an LXP:
The same content creation and management features that are present in an LMS (see above.
Assessment of users' performance.
Users are able to create and upload content to share with one another.
Gamification - such as leaderboards, badges, certificates, and so on.
Actionable learning recommendations - each user will have a pathway that will fill up with recommended content (not assigned to them).
What is an LXP traditionally used for?
Skills development.
Leadership training.
Professional development initiatives.


Okay so... I understand what they are. But what are the main differences between them?

While LXPs and LMSs share some similarities, there are key differences which separate them.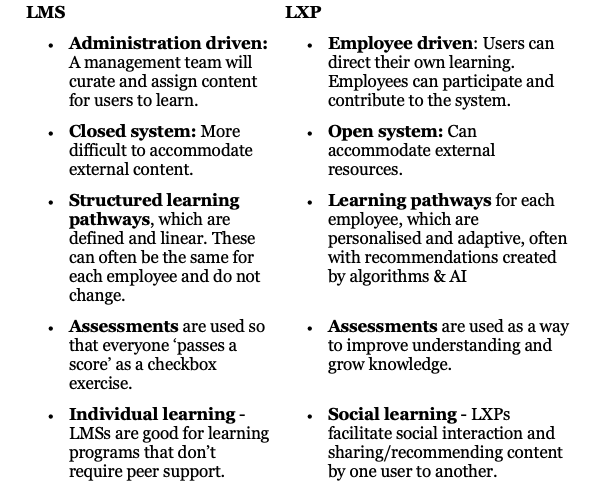 But you may just find that it's the blend of these two systems that create the perfect environment for employee learning.


What's our story - how did we come to be a blend of the two?

Over time, we've become a blend of LMS and LXP. As our system has transformed and grown, we've incorporated different features.

However, we started out by looking to intuitive 'consumer' products for inspiration, and as a result started out by being 'learner driven' (more like an LXP).

But... we soon realised that learners aren't always good at driving their own learning, and this leads to low engagement as a result.

As a result of receiving feedback from some of our early adopter businesses who were dealing with a global employee base, we looked to LMS features, as they're optimal for directed learning.
However, often they're too directive and the learners don't get to drive any of their own learning.

So we cherry picked the 'high impact' features from Learning Management Systems...

Namely, that some guided learning is a great way to get employees into the habit of learning - off the back of which, they get more interested in self-driven learning.

This is why we think a blend between the mixture of an LMS and an LXP is the perfect recipe for high engagement and self-directed learning.

What are the advantages of having a mixture between the two?
One system: Instead of spreading out learning across an LXP and an LMS - bearing in mind it takes time to set up a system and getting your users acclimatised to it - why not use a blend of the two? Then you can have your content all in one place.
Directed and self-driven learning: A combination between these two types of learning is the ultimate way to boost engagement. Allow your learners to complete necessary compliance training as set by managers, and to share great content with one another simply by using one system.
Content: You can have a dedicated curation team who are obtaining the best content for your learners, and give your employees the power to upload great content that they'd like to share with others too.
Assessment: Not only can you assess your learners' performance on obligatory training, but you can also see how much self-directed learning they're doing too - which could help you assess their skills and professional development.
Continual improvement: You can use ratings and feedback (LXP features) to improve both mandatory and optional content.


Sounds great! What's next?

Hopefully we've shown you how a combination of LXP and LMS features is the best way to facilitate both directed learning and also autonomous, self-driven learning. By using a mixture of the two, you can make sure that your learners are completing all the mandatory training and developing new skills and knowledge in one system.
If you're interested in seeing how we blend these features into an all-in-one platform, take a look at our website or request a free demo.
We hope to hear from you soon!