Offboarding - the process of separating a leaving employee from the company - is a critical part of the employee journey. When handled with sensitivity and compassion, offboarding can have a significant positive impact on both the employees who leave and those who stay.
The Aberdeen Group found that companies with a strong offboarding practice had 14% higher employee retention and 11% higher engagement than those without.1 However, handling offboarding well can be challenging, especially for remote workers.
How can you ensure that you are managing your offboarding process so that your leavers become advocates of your organisation?
Remember that you are dealing with people, often in a stressful situation. Your offboarding process needs to be human-centric and where possible customised to the individual. Start with a checklist to ensure the process is smooth and consistent for all. Plan your process so that nothing is forgotten.
Here are some ways to make sure that your employee experience is a positive one, up 'til the last day and beyond.
1) Show some love
Remote offboarding can be a little clinical. It's harder to organise leaving drinks or say goodbye in a remote setting. Consider setting up a "wall of appreciation" for each leaver using a tool like Padlet, where colleagues can leave positive feedback, share memories and express their appreciation.
Here's an example: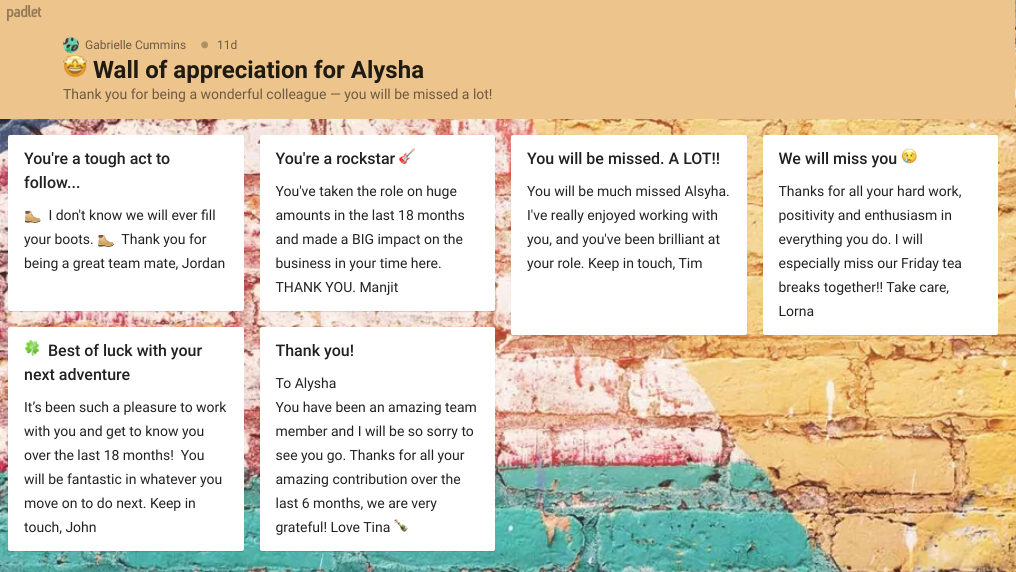 Or ask the employee's teammates to self-record short videos of their fondest memories or a short goodbye, then combine them to make a memento video for the leaving employee.
Schedule a final meeting for the employee with their manager. Focus on what the employee has contributed to the organisation. Recognition and praise of an employee's achievements and skills will not only ensure your leavers feel valued. It can also be an invaluable confidence boost as they look for or start a new job.
2) Throw a virtual party
Depending on the circumstances, it may be appropriate to organise an online celebration before the employee leaves. Of course, this needs to be handled sensitively – employees who have been made redundant may not be in the party mood, or they may prefer something more low-key. Either way, ensure you offer them the choice before you plough ahead.
If the employee would like a celebration to mark the occasion, here are a few ideas for a fun remote leaving ceremony:
Send the leaver a few bottles of their favourite tipple, and then organise a post-work online drink. Ask the members of their team to prepare a toast to the leaver, or to share a happy (or embarrassing!) memory (depending on your team ethos).


Recreate a leaving dinner. Send everyone the same restaurant photo to use as a Zoom background and give the leaver vouchers for their favourite take away place – then enjoy a festive meal together.


Surprise the leaver with a remote "flash mob". This can work well even with larger remote teams. Simply set up a Zoom call or Google Hangout and prime everyone with some simple dance moves beforehand. Then turn on the tune mid-call and get everyone up and out of their seats! It would certainly be a memorable goodbye.


Try to customise your plans to the individual as much as possible. Involve the leaver's close colleagues in your celebrations to make sure they feel recognised and appreciated for who they are. For instance, depending on their tastes, you could set up a remote cooking class, magic show, or themed costumes.
While a party may not always be welcome or appropriate, a care package that arrives a few days after they leave can be a nice touch. Make it personal. It doesn't have to be splashy, but a handwritten note and small gift shows you have thought about them past that leaving date.
3) Handle the housekeeping with sensitivity
Any offboarding process must include certain routine activities to protect company security, such as retrieving work property and removing the employee's access to sensitive data. However, make sure that you handle these processes with the same emphasis on kindness and thoughtfulness.
For instance, to make things as effortless as possible, when you send a courier over to pick up the company property, you could also include labelled boxes for work documents and their company laptop.
Think about how you want the employee to dispose of confidential company information. Ensure that all communications about company security are addressed with tact and sensitivity – nobody enjoys being treated like a security risk.
4) Help them take the next step
Keep your relationship positive with your leavers – even after they've left. After all, they are your future brand advocates, re-hires – maybe even customers. Whether your employee is leaving voluntarily or being let go, it's important to provide compassionate and helpful touch points for their transition.
For example:
set up an alumni chat group or an automated newsletter to keep the relationship going.

Invite the leaver's manager and teammates to leave recommendations on the leaver's LinkedIn profile or other relevant social media pages.

You might even want to take a leaf out of Airbnb's book and set up a talent board for all leavers, especially if you are making multiple redundancies: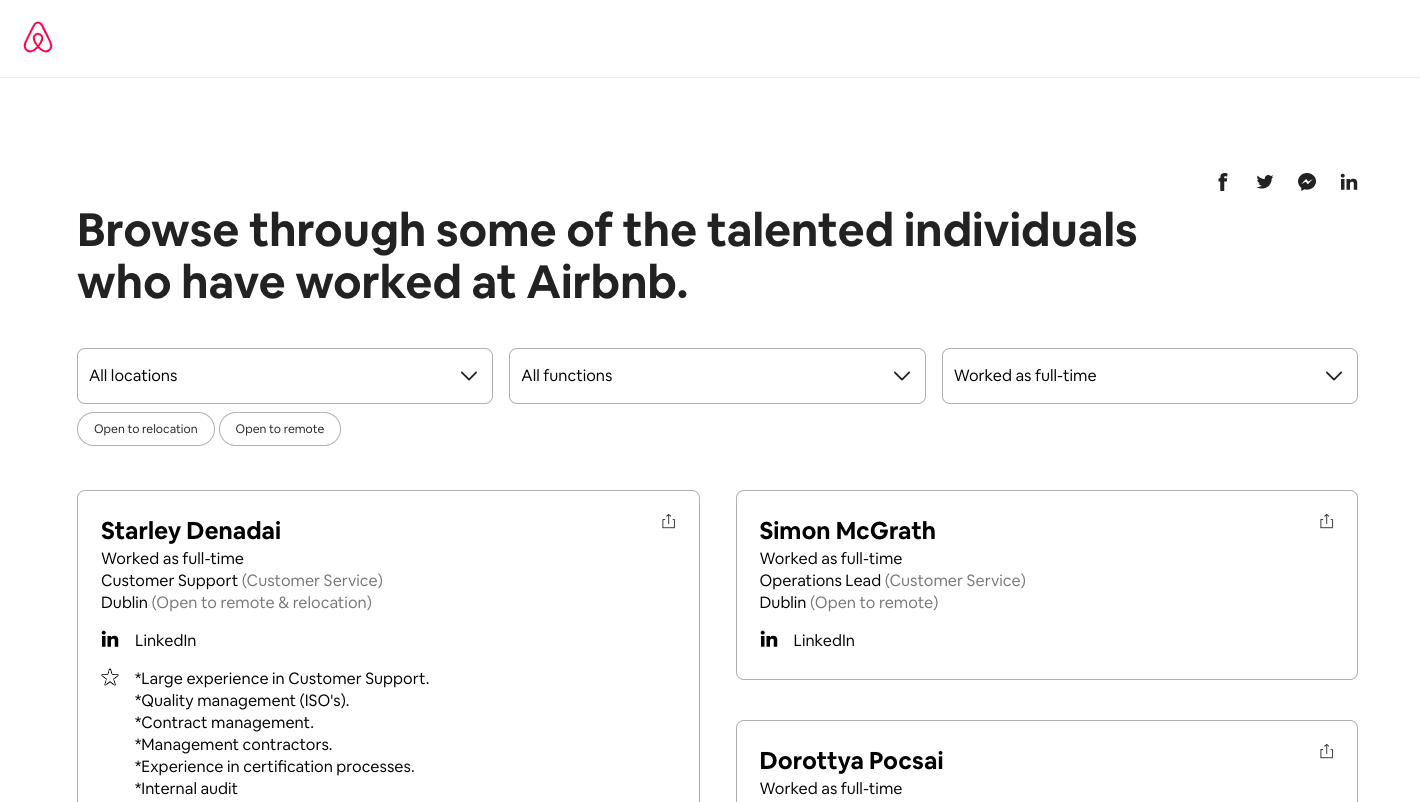 5) Need a hand?
Lastly, if you're looking for more support to provide a well thought-through and compassionate offboarding experience, at Learn Amp, we've been helping our customers by setting up a "pathway of knowledge" to help them think through the experience for their exiting employees.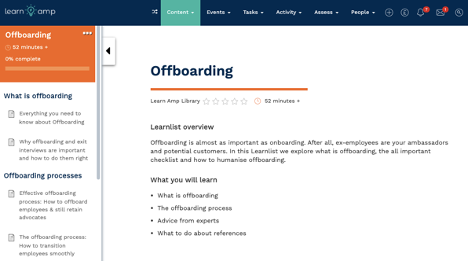 Interested in finding out more about how Learn Amp can help your employees?
Remote offboarding can be challenging – but it's worth getting it right. Your remaining employees will be watching closely to see if you treat their former colleagues – and, in some cases, friends, fairly and consistently. Employee offboarding is a critical part of the employee experience.
Being kind during the offboarding process gives you the opportunity to demonstrate to your existing employees that you see them all as valued individuals, not just "resources".
A sensitive and compassionate approach to offboarding will communicate to your customers, employees, and future hires that you live by your company values under all circumstances, no matter how difficult. If you remember to keep a human touch, you may find that your exiting employees remain brand advocates long after they leave.
Resources