Will it Make the Boat Go Faster? are a leadership and performance consultancy. They were looking for ways to scale their programmes for a wider audience, while keeping quality.
They needed a way to capture the community experiences that they were able to create at their in-person workshops in an engaging online cohort-based learning space.
We spoke to Digital Product Manager, Georgia, on how their team achieved this.
"We didn't want this to be an empty space where individuals logged in – we wanted it to be a team space and client community."


Georgia Hill, Digital Product Manager, WIMTBGF?
Building

'The Boathouse';

a customer training hub

and community
Implementing Learn Amp to build The Boathouse marked the first adoption of an LMS/LXP to deliver digital programmes and communities to clients at WIMTBGF?.
As Digital Product Manager at WIMTBGF?, Georgia led on designing, building, and launching The Boathouse, and worked to ensure that the existing workshops, content, and literature would keep their quality when transformed for digital consumption.
It was key to set up processes and quality controls across content creation, learning design, process and feature management so all clients received the same high-quality learning and community experience.
"The Boathouse is a world-class platform. Really good content, extremely well presented.''
Danny Lopez, CEO, Glasswall Solutions
Learn Amp helped WIMTBGF? scale their offering
With The Boathouse, WIMTBGF? built a social, team-based learning programme that allowed clients to self-develop skills, elevate their performance, and receive action-oriented learning along with support and momentum from managers and peers. Crucially, members could also access practical tips and strategies on demand.
''It's great to have a platform that is populated with our unique and tried and tested content, that looks great and is easy to use, and is out there in the world making a difference to clients.''
Georgia Hill, Digital Product Manager, WIMTBGF?
Why WIMTBGF? saw Learn Amp as the perfect solution
When looking for the right solution, Learn Amp stood out for their partnership approach and the extensive suite of social features available.
The key features that Georgia says have made all the difference were:
Learning pathways and content types

, including videos, channels, worksheets, templates, exercises, and more ensured Will it Make the Boat Go Faster? was able to adapt its workshop material and variety of mediums to engage users in their digital learning pathways.

Social and collaborative

elements embedded in the platform, to create a team space where client communities could log on and post on items in discussion threads, and in social feeds.

Dashboards and featured programmes

to ensure that managers and learners both have dedicated dashboards to easily check completions and more. This type of 'shop window' allows for all content and Learnlists to be visible via dashboards, so content is simple and easy to find for clients who want to self-discover and clients who want to use curated pathways. Team managers are also given access to The Boathouse, enabling them to check and report on engagement.

Surveys and automations

ensure that learners are routinely reminded to feedback on completed items, which helps managers to keep material fresh. Along with dashboards, this allows managers to get quick insights into how their teams are engaging with The Boathouse content.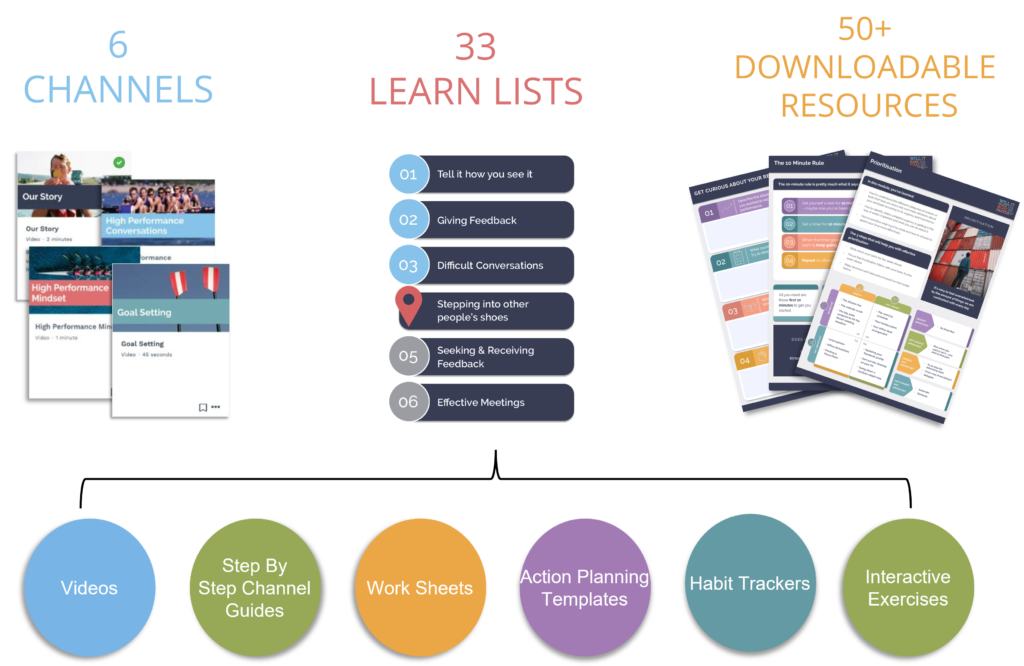 Pioneering customer learning communities
Learn Amp was the key that allowed Will it Make the Boat Go Faster? to create secure spaces for each client that protected confidentiality whilst allowing interactions between users in cohort-based learning programmes.
There has already been a real impact for clients who use The Boathouse, with learners adopting new, high-performance behaviours as a result of the programme. For example, learners are using ideas like the 10-minute rule and performance reviews, along with other methodologies taught in the programme to improve their individual and team performance.
"The holy grail for skills-based learning is behaviour change, so seeing these results is a real testament to how The Boathouse has helped drive real change."
Georgia Hill, Digital Product Manager, WIMTBGF?
For the business, Georgia has seen how The Boathouse has allowed WIMTBGF? to increase the impact of its offering and generate an added revenue stream for the business that is supplying a return on investment, all while providing the high quality and engagement for clients.

What's next?
In the short term, WIMTBGF? will continue to adapt their programmes and content for use in The Boathouse.
Georgia would love to see The Boathouse grow its community, to add more clients who want something a bit different, more pioneering, and more impactful.
They wanted to capture the community experiences that WIMTBGF? was able to create at its highly regarded live programmes, and The Boathouse has already seen such success in achieving this goal.
A core driver for Will it Make the Boat Go Faster? is having an impact and making a difference, and The Boathouse is an excellent way to see this in action.
The best LMS for your

customer learning community
Trying to find the right learning platform for your customer community? Check out our guide to selecting a new LMS.